I made this wallpaper to cheer
thehallway up, and the ficlet is something she asked for a long time ago. I had never wanted to do a DWTB story because that topic was so done to death, but I got the idea from watching a video this afternoon.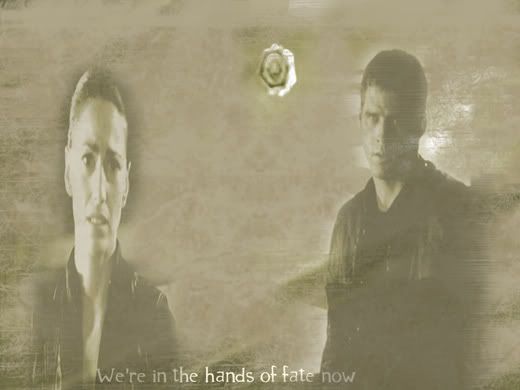 The coin is rough between his fingers. They move across its surface and he hopes that the tremor he feels inside doesn't show. His heart beats in time as his feet slowly cross the room. He knows that she's hurting, but so is he.

To her, he is only Crichton.

Not John.

Not the one she lost only a short time ago.

He is yesterday, with no tomorrow in sight beyond that piece of metal that wants to tremble in time with his heart. His life now came down to this one small coin.

```
She wants to just go. To forget all that she'd learned. To become lost in order, the chaos that is in her heart has come at too high a price.

To hear him speak and know if he's afraid, or nervous by the pitch of his voice. To watch him move toward her, holding the coin that mere moments ago she'd kicked. To breathe when he's really gone. His taste is still on her lips, in her mouth, in her heart. But he is only a memory of what could have been.

She loved John.

Will always loves him.

But the man in front of her is not the man she knew and loved. He is a reminder of all she lost and if she stays, will lose again.

She doesn't want to say goodbye, she's already done that one time too many. Fate was cruel to have given her so much only to take it away just as quickly. Now it was time for fate to decide once and for all.